Make your home stand out during the selling process in Barrie, ON with our room design services.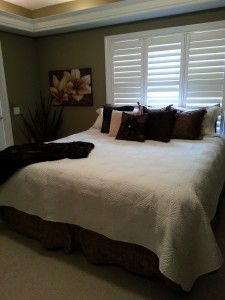 In any room, the furniture and accessories should be arranged in a way that encourages energy flow and is aesthetically pleasing. This is especially important when you are selling your home, as buyers need to be able to picture themselves living in your house if they follow through on the sale. If you want to ensure that all of the rooms in your home are designed in a way that makes your home stand out, turn to us at Art of Staging and Design for room design services.
When we come up with a room design plan for your home in Barrie, Ontario, we may bring in rental accessories and furniture to give each room a new look and feel. However, we are often able to use these rentals in conjunction with other pieces that are already in the room.
You can trust us to provide you with excellent room design services because our owner and founder is a Canadian Certified Staging Professional with a strong passion for designing and creating. We are also able to come up with appealing room design plans for nearly every room, including office spaces, living areas, bedrooms, and more.
At Art of Staging and Design, we can't express how important first impressions are when you are selling your home. To find out more about our room design services and how we can contribute to the successful sale of your home, please feel free to reach out to us today.
---