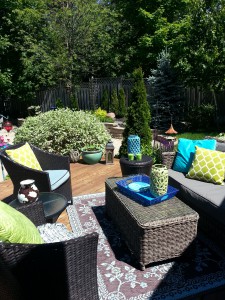 Spring has finally arrived! If you're ready to bask in the sunshine and enjoy all that this beautiful season has to offer, you will need to take some time from your busy schedule to beautify the exterior of your home. A beautiful property in the springtime can not only help you feel happier when you're at home, but it will also dramatically increase your home's curb appeal. Visually, this is the very first impression that people form opinions on.
As a softscaper, we enhance the beauty of many yards throughout Ontario every spring, so we have a few tips for you that will help ensure your outdoor living space embodies everything the spring season has to offer.
Get rid of old debris—Winter can leave behind a mess that can negatively affect the appearance of your yard. As a softscaper, the first thing we suggest doing is pulling out your rake from the shed and eliminating dead leaves, tree branches, and other debris from your lawn, garden beds, etc.
Plant away—After the final frost, nothing says "It's spring!" like colourful flowers. If you haven't already, spruce up your garden with quality plants and various appealing colours that complement the home's exterior. Go to your local garden store for great colour inspirations.
Update your outdoor furniture—Now that spring is here, take a good look at your patio furniture. Is it rusted, discoloured, outdated, or in need of serious repair? Some furniture can be spray painted to bring back life or update to a modern colour. If it's outdated and needing serious repair, look for spring sales. Take advantage of the garage sales that will be popping up very soon. Add colourful cushions and decorative accents and planters.
If you'd like the professional eye of a softscaper to really take your yard to the next level this spring, contact us at Art of Staging and Design! We'd love the opportunity to beautify your yard.
"Begin each day with a little courage, a little curiosity, and a little spring in your step." -Doe Zantamata