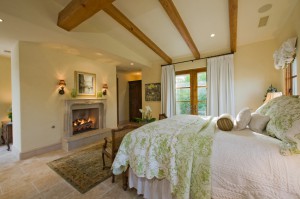 Are you tired of the white walls in your office but don't want to buy paint and attack the tedious and time consuming job of painting?  Are you looking at your beige couch and feeling "blah" about it, wishing you had bought a more interesting piece of furniture?  I am here to tell you that you can breathe new life into a room that you are feeling is a little outdated or boring without breaking the bank.  Why spend your hard-earned money on a new couch when you could book a trip to sunny Mexico instead?!  The following ideas I have shared below will make your room look appealing not only to you, friends and family, but potential buyers.  If your intention is to put your home on the market or it simply needs updating, then you definitely want to take a look at these easy-to-do room refreshers to get more money for your home.
First things first, you do not need to spend a ton of money to achieve exciting new change to your décor.  Here are some economical ideas that will leave your wallet happy and give a fresh new look to the rooms in your house that need a bit of love:
Pillows: Adding vibrant, colourful, textured or patterned pillows will complement the décor in your room design. To select these, get your inspiration from a piece of art or your statement rug. Look in your closet and try recycling large scarfs or pashminas and begin creating layers on your sofa, side chair and the bed to add a splash of colour.
Rugs: Many affordable statement rugs can be found at Ikea and really tie the room together.  They improve warmth and colour and just feel nice under your feet.
Artwork: Do you have an older piece of artwork that you just don't like anymore or are you are tired of looking at it? Since it is probably in a beautiful frame, why not paint over it?  Usually an abstract colour story works best and adds the colours you think will complement the existing ones in the room or create a new look with something completely different.
Plants: When you embellish interior spaces with plants (inexpensive to purchase), they add depth, colour and dimension, all of which are very pleasing to the eye and add another layer of warmth to your space. Bringing the outdoors to the indoors allows us to feel like we are a part of nature and softens hard corners and hard surfaces. Additionally, there are many health benefits associated with living with plants, as well.
Moving Furniture: Grab a friend and try out a different layout if you think it might add a different look to the room design.  What is your goal?  Do you want to try Feng Shui and add more space or to create a cozy and intimate setting?  Play around and consider it your workout for the day!
There are many ways to update your décor without spending too much money.  Just remember to accessorize, move things around and get creative.  Look for things online (think Kijiji), check Pinterest for inspiration, and be creative.  Bold colours go a long way, and don't forget about the things you may already have in your closet or already hanging on your walls.  Leave a comment if you have any great ideas that you have already utilized in your own quest to spice up a room design!