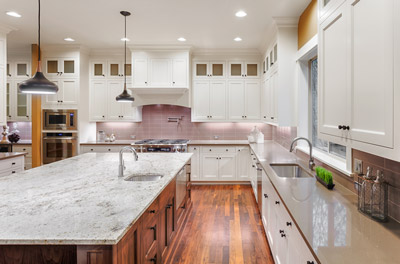 Do you feel like your kitchen countertops could use an upgrade? Do you feel like your bathroom vanities are a bit drab, and new countertops would give the whole bathroom a fresh look? When it comes to a new kitchen design or giving your bathroom the upgrade it needs, you may find that new countertops are just the solution. But, what kind of countertop materials should you use? Here are a couple of suggestions to get your home re-design wheels turning:
Quartz – You can liken quartz countertops to your best friend: attractive in appearance, rarely displaying weakness, and durable through thick and thin. And who doesn't want to have their best friend as a permanent fixture in their home? Quartz countertops look like granite, but are easier to maintain. They are dense and non-porous. This makes quartz a fabulous choice for your kitchen or bathroom.
Granite – When it comes to having your kitchen designed or starting on bathroom upgrades that will greatly increase the value of your home, granite countertops are the ideal solution for any buyer and seller in today's market. Granite is a timeless option for all of your home surface needs and will help to provide that "wow" factor that you're desperately looking for. There are countless surface options and applications to make sure that your home surface remains resistant to stains. Not only is granite resistant to surface damage, but it also comes in a variety of patterns (both bold and subtle). The vast number of options and colours that will speak to your unique home décor tastes and preferences will make granite countertops the perfect choice for your home.
By investing in a kitchen or bathroom upgrade with a new surface solution, the daily maintenance of your home will become much easier, and the added value will speak for itself. If you need help with a fresh kitchen design, your bathroom needs a little refresher, or you just want to know how your countertops can become your new best friend, contact me at Art of Staging and Design today for a consultation. I'll make sure your home has that fresh look and feel in no time.
"A room should never allow the eye to settle in one place. It should smile at you and create fantasy." -Juan Montoya