Our softscaping services are complemented by a dedication to making your home look its best.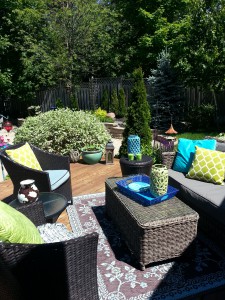 In addition to how many bedrooms and bathrooms your home has, its kitchen, and other interior features, your front and backyard can be a huge selling point when you put your home up for sale. If your landscaping is overgrown and its overall design plan fails to highlight the best features of your yard, you may not be able to get as much as you could for your home.
This is where we come in at Art of Staging and Design. With our softscaping services, we can turn your home's landscaping from subpar to spectacular. The best part is that we can tailor our softscaping services according to your unique desires and specifications.
We can create the perfect space for your patio by adding rental accessories to create a warm and inviting outside atmosphere for the potential buyer.
At Art of Staging and Design, our main goals are to help you sell your home as quickly as possible and to help you get the best price for it. When you take advantage of our softscaping services, we'll do everything we can to make these two things happen.
If you have any questions about our softscaping services or how we can help you as you get ready to sell your home, please give us a call. We are always more than happy to provide you with assistance.